Zipline Experience over the Ozarks in Branson
Hang on tight for an unforgettable experience where you zipline through towering trees. Discover the natural beauty of the Ozarks as you soar through the air.
No refunds for canceled bookings
Highlights
Journey into the natural wonders of the Ozarks with a fun-filled ziplining tour
Start off with a 10-minute orientation that covers the basics of zip line use, then head to the top of Wolfe Mountain
Trek across swinging suspension bridges, cross walkways covered in the canopy, and soar down numerous ziplines
Get your heart racing with the Dynamite Drop, an exhilarating 40-foot freefall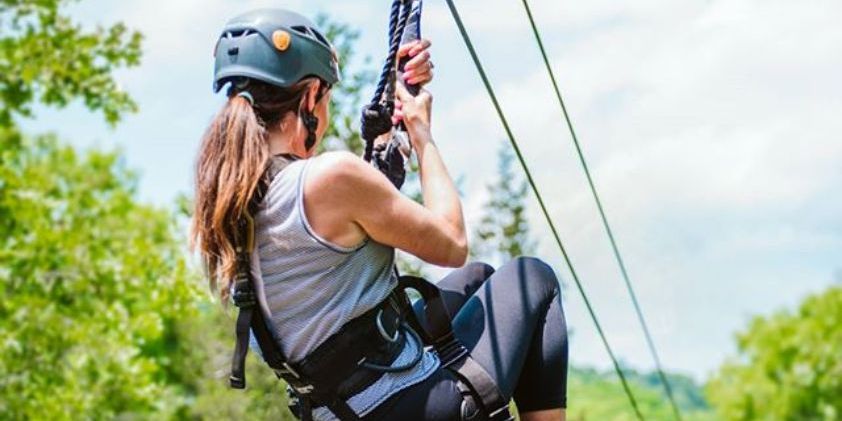 What's Included
Ziplining tour
Friendly and knowledgeable instructor
Additional Information
Guests should have long hair tied back, and dangly jewelry should not be worn. Guests should wear casual clothing appropriate for outdoor activity. Closed-toe shoes must be worn. Closed-toe sandals may be worn as long as they are strapped on. There is no age restriction on the tours, but participants must weigh between 70 and 275 pounds and meet minimum eligibility requirements.
Aug 2, 2021
Sidney and Tanner were so much much fun to have as our guides. The scenery was great. We will definitely recommend this place to our friends that come.
Review provided by Peek Pro
Jul 31, 2021
The guides were really nice, they were fun in their conversations, very helpful (when my youngest daughter got stuck on the zipline), and had a good knowledge of the campus of the Banson Zipline area.
Review provided by Peek Pro
Jul 30, 2021
Our guides were AWESOME! I am scared of heights, and my kids talked me into doing it with them! Just do it! The guides will help u feel comfortable throughout ur experience!!! And dont forget to tip them 4 a job well done 😁
Review provided by Peek Pro
Jul 25, 2021
Our guides were top notch and the experience will last a lifetime. Will come back and do again when in the Branson area.
Review provided by Peek Pro
Jul 24, 2021
Staff is amazing! They did a great job of making everyone feel comfortable and have fun.
Review provided by Peek Pro
Jul 22, 2021
Beautiful location to zip over the tree tops. Friendly crew that guided us.
Review provided by Peek Pro
Jul 18, 2021
All the employees were knowledgeable, professional and patient with our party. I highly recommend their services to anyone.
Review provided by Peek Pro
Jul 15, 2021
Second time coming, second great experience at Wolfe Mountain. Staff is great, course is great. Highly recommend this place.
Review provided by Peek Pro
Jul 14, 2021
Very good crew guides. Very good zipline course. Had lots of fun.
Review provided by Peek Pro
Jul 5, 2021
You emailed me
Review provided by Peek Pro