Schooner Sunset Sailing Cruise - Clearwater Beach
Set off on a two-hour sailing experience, where the destinations are dictated by the wind, tides and currents. Bring your favorite beverage and snack to enjoy while sailing offshore.
Highlights
Join others aboard a 52-foot custom Schooner for a true sailing experience with like-minded passengers
Sail along with a USCG licensed and experienced Captain and Crew for a coastal view of Clearwater Beach that many do not experience
Experience Florida Gulf Coast Beaches while listening to the wind in the sails and the waves splashing against the hull
Get the opportunity to possibly see dolphins feeding or playing in the wake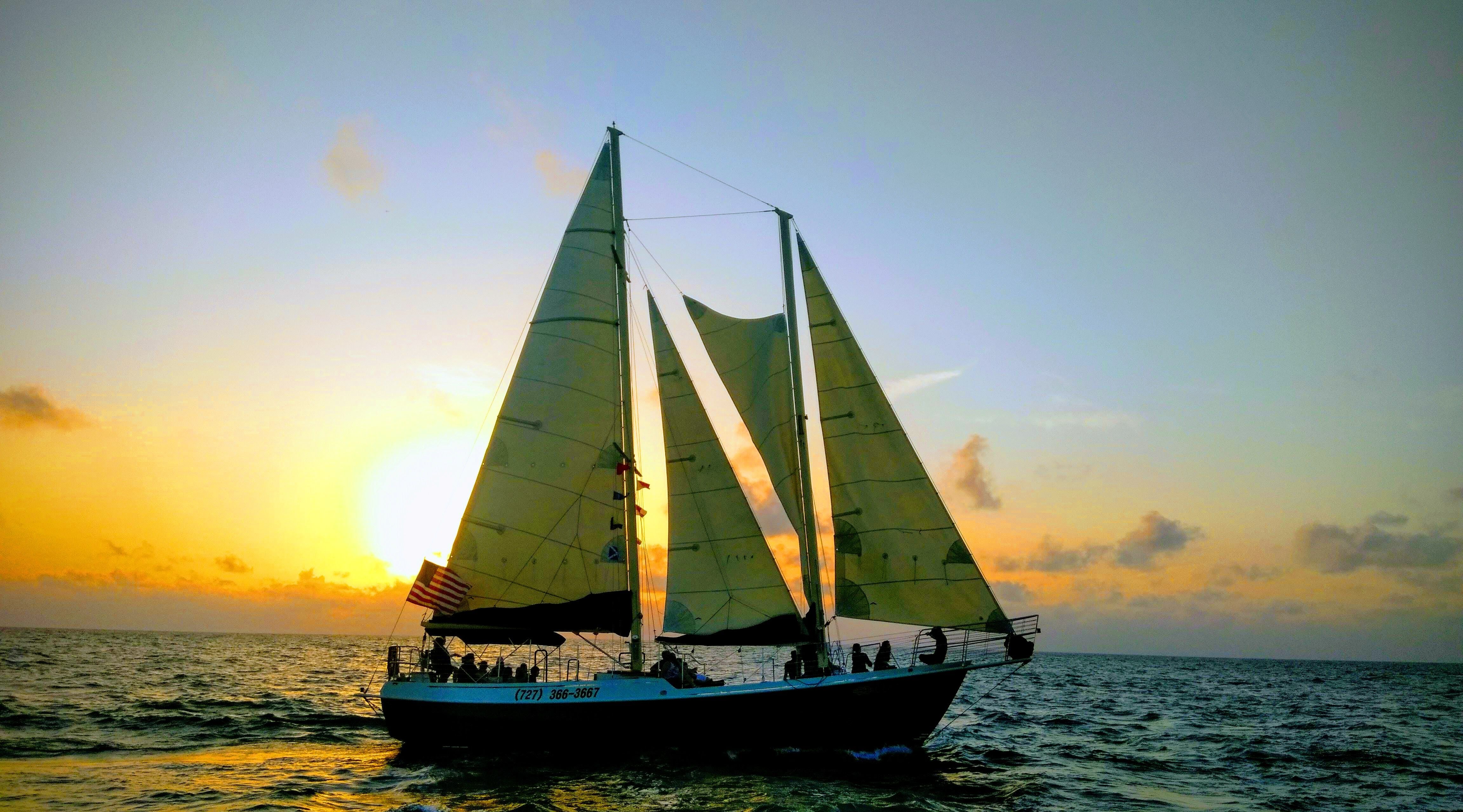 What's Included
Two-hour sailing tour with USCG credentialed Captain & Crew
Chilled citrus flavored sparkling water
Additional Information
Please plan to arrive no later than 45 minutes before departure time for mandatory check in to collect your boarding passes
We require a timely check in to report our passenger count for the USCG and to ensure everyone enjoys a full 2-hour cruise
Passengers must be physically able to navigate a narrow dock and stairs to step across to the boat
Once on board, you will need to be able to move about on uneven deck surfaces, climbing down a 2-foot-deep step into our seating area, and then a 2 foot step back up onto the deck
Loose-fitting clothing and flat soft soled shoes are best, no heels or flip flops, but you may go barefoot onboard
It is always a good idea to bring along a jacket or sweater for cool offshore breezes October - March
If you enjoy the trip please tip your Crew!
Rules
Not wheelchair accessible
Must be 21 years old to consume alcohol on board- We ID
Pets not allowed
May be unsafe for pregnant women
Unsafe for those with back problems
Children under 5 are not permitted to sail
Cancellation Policy
You may cancel your tickets at least 24 hours before your sail for a full refund
Your tickets are valid only for your scheduled date and time
You may schedule a different date and time if you make your change 24 hours in advance
Once inside the 24 hour period, we will refund tickets only if we cancel from our end
There are no refunds if you miss your sail
Rescheduled tours due to missing the boat departure are available for an additional $25/person fee, and only if space is available on an existing departure
We monitor the weather continuously and are committed to reducing hazardous exposure
We will not sail in heavy rain, thick fog, high winds, thunder and lightning etc.
However, we will sail in overcast conditions, light to medium fog and in intermittent sprinkles
In the interest of safety, the final decision to sail resides with the Captain and Crew and may be made up until departure time
If you've purchased a ticket and do not show up, and the boat sails, your ticket is not refundable or transferable
Oct 4, 2021
This was a wedding gift from my employer, and it was a great experience. We would definitely do this again.
Review provided by Peek Pro
Oct 3, 2021
Captain Mark and his helper did a wonderful job! Very clean and safe. Was our first time sailing and we enjoyed the beautiful sunset sail and the beauty of the ocean. We found sailing to be very relaxing and enjoyable and would do it again! Thank you!
Review provided by Peek Pro
Sep 30, 2021
Works fine. Reserved the night before with no problems. We wish a better choice of beverages were available such as water and a Coke or Pepsi product brand.
Review provided by Peek Pro
Sep 27, 2021
Amazing evening on the boat. Guests & staff we all so sweet and incredible. Will be going again soon :)
Review provided by Peek Pro
Sep 25, 2021
Besides perfect weather the crew was very professional and friendly. Can't wait to go again
Review provided by Peek Pro
Aug 28, 2021
It was a great sail with Mark and Kyle! We had to push our reservation to a sunset due to the weather and it might have been even better than our original afternoon reservation. I would highly recommend sailing with these guys!
Review provided by Peek Pro
Jul 29, 2021
Perfect for an intimate evening with a beautiful sunset and lovely company! Highly recommend!
Review provided by Peek Pro
Jul 29, 2021
This sailing trip was one of the highlights of our family vacation! Professional and friendly captain and worker! Very relaxing! Will do this sailing again!
Review provided by Peek Pro
Jul 16, 2021
Had the perfect night to ⛵, views and company were fantastic too! Captain was great and entertaining! Would definitely do it again.
Review provided by Peek Pro
Jun 22, 2021
I enjoyed the relaxed atmosphere onboard, with no music or endless banter over a loudspeaker, so that you could enjoy the sounds of the wind, water and the sails. The captain was attentive at all times to delivering a true sailing experience and altered the intended course in order to maximize the wind conditions. His mastery of sailing and seamanship was apparent as he effortlessly maneuvered the large vessel in and out of the slip. If you are looking for a true sailing experience with interesting scenery and wildlife, this is the best choice. If you are looking for a booze cruise look elsewhere.
Review provided by Peek Pro