1-Hour Airboat Ride in Lake Jesup
Relax on a luxurious pontoon boat and enjoy a narrated tour of Lake Jesup. See one of the oldest lakes in the country, that is home to alligators, a diverse ecosystem of colorful creatures, including exotic birds!
Highlights
Tour this 100,000 year old lake and see bald eagles and exotic birds
Visit the place that is home to over 9,000 alligators and learn all about the area from your experienced tour guide
Relax on an open airboat eco tour and take in the central Florida's impressive natural beauty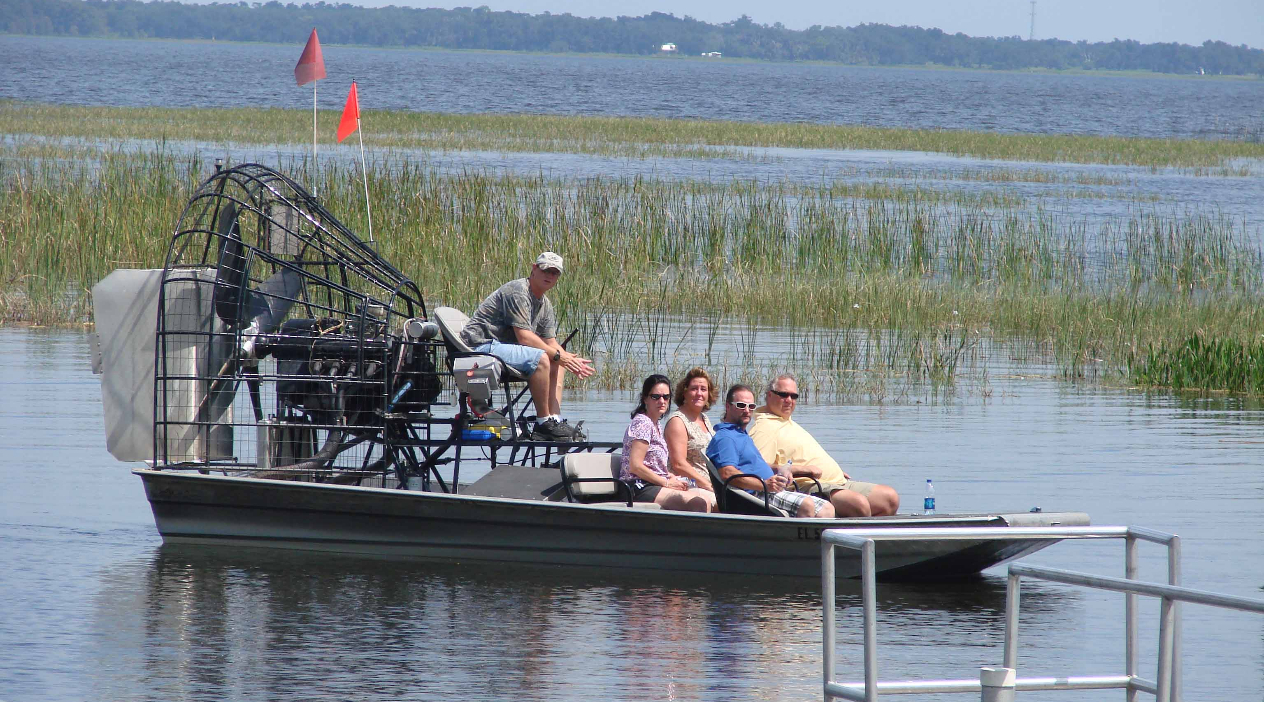 What's Included
1-hour daytime airboat ride
A free photoshoot where you will be holding Lucy, our house gator!
Additional Information
Please plan on arriving 15-30 minutes prior to your scheduled departure time
Guests should dress in layers, bring sunscreen, and bug spray
As we need 4 person minimum for the boat to leave, the first person to book will be required to book for 4; then individual booking will be available
Infants (ages 0-2) ride free
Customer Ratings
Jul 8, 2022
Captain John was awesome and showed us a lot of cool things
Review provided by Peek Pro
Jul 3, 2022
Awesome tour by Captain John. Learned a lot about plants, animals, and local history. Fun ride! Very hot day, but the breeze when cruising the lake was delightful!
Review provided by Peek Pro
Jun 4, 2022
Captain Willie was awesome. He's very knowledgeable about the surrounding area and was funny. Great to interact with. We were able to see multiple gators and has a great time.
Review provided by Peek Pro
Apr 23, 2022
Always a good time (this being our 4th). We've tried other airboat tours in the Orlando area, but this is the best. Appreciate the Captain's information about the environment and wildlife, but also appreciate his professionalism. Nice bunch up there and the new bar is great for grabbing a beer afterwards. I'll keep bringing my friends from out of town. They always love it.
Review provided by Peek Pro
Apr 21, 2022
They accommodated us when one of our group came down with the flu and could not make the trip.Our driver/guide was excellent. We stopped several times and were given a mini education about the lake, the foliage, the wildlife etc. I appreciated that he was able to keep a good balance of information and not monopolize the ride. He kept it interesting for all age groups. We would do this again...on a warmer day when there is more wildlife activity.
Review provided by Peek Pro
Apr 17, 2022
I took my husband and 2 teen boys on this trip. We had a wonderful time. John was very knowledgeable about the wildlife and vegetation. It was so much fun. Well worth it.
Review provided by Peek Pro
Apr 12, 2022
Captain Steven was very knowledgeable about the surroundings of the environment including the wildlife. My group and I had a great time at the airboat ride trying to seek out the gators that were hiding in the tall grass areas. We had fun cruising with the wind in our face and would recommend this activity to anyone who wants to see the marsh life in Florida.
Review provided by Peek Pro
Apr 11, 2022
Took some friends from California - loved all the wildlife we saw plus all the interesting facts!
Review provided by Peek Pro
Jul 28, 2022
The 1 hour airboat ride was good, but finding out we'd be 40 minutes late, which turned in to an hour, due to an earlier group arriving late. In our opinion, they should have just shorted that groups tour, not made us sit with our kids for over an hour. Other than that, the ride was nice. Saw no gators but I understand the time of year means they are hiding out to stay cool.
Review provided by Peek Pro
Jul 25, 2022
We scheduled an hour tour at 11 am but because the 10 am arrived late everyone else has to wait an hour.
Review provided by Peek Pro